Owning a cat is a joyful experience. Over time they truly become family, and every now and then it's fun to gift something to your fur pal. The problem is, with so many types of toys and gadgets out there, it's tough to always choose the right gift for your cat. To help solve the problem, we've created the ultimate gift ideas guide for cats.
In this guide, you'll find really popular gift ideas and also other creative gifts you might have never thought of.
These gifts are perfect for any time of the year too! Whether it's Christmas, Valentine's day, or your cat's birthday, they'll be sure to love all of these wonderful gift ideas. Let's jump right into the ultimate gift guide for cats!
1. Scratching Posts And Pads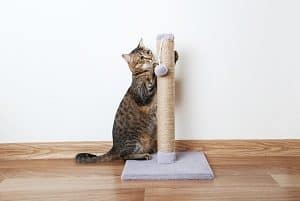 What's the number one thing cats love to do besides snuggling up to their owner? Scratch! Cats scratch all the time, and sometimes that can be problematic too when it gets to your furniture. So, why not gift your cat a quality scratching pad? Scratching pads help keep cats entertained and they feel good on their claws too.
Not all scratching pads are created equal though, so here are a few of the best scratching pads for cats that we recommend for maximum enjoyment.
Scratch Lounge – The scratch lounge is considered a luxury option for cats! Not only can they scratch it, but they can lay inside of it and relax when they're done. If you want to provide your cat some awesome comfort then this would make the perfect gift.
Diversity World Scratching Pad – This scratching pad is versatile. You can hang it up on a door if that's your cat's favorite spot to scratch. It can also be laid flat on the ground.
Pet Fusion Pad – What makes this pad unique is its vertical 3-sided design. This allows cats to pick and choose their favorite spots to scratch.
Some scratching pads even come with a bit of catnip to keep cats engaged with the pad time and time again. If you're feeling really creative, you could also try out a DIY pad using cardboard boxes! Read more on how to do that here.
2. Pet Sweater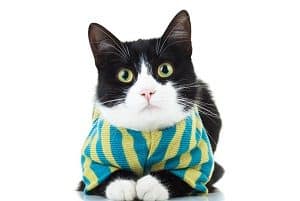 In the wintertime, it can get really cold outside. If you have an outdoor cat, then it might be a good idea to get them a cute sweater. Pet sweaters provide good insulation to help lock in heat. They are also quite comfy to wear and it's something your fur pal will bond with quickly.
Good quality pet sweaters will have the following qualities:
Windproof
Pullover ability
Unique pattern design
Works with a harness
Windproof features are perfect if you're planning to walk your pet in breezy conditions. It also blocks out debris like dirt and leaves that may blow into your cat's fur. This lessens the hassle on the owner to have to bathe or brush out those fragments. The best one we've come across that has windproof features is this one.
The pullover feature is important too because it helps with getting it on your pet without much of a hassle. This cat sweater has it and it fits on cats of all sizes. They can practically put themselves in it once they've explored it enough.
Lastly, the unique pattern design is important because it says a lot about a cat's personality. If you've got an energetic cat, then brighter colors and more designs can show that. The same can be said for a more subdued cat where a solid pattern on the pet sweater is more ideal. Mihachi makes some awesome textured designs with their cat sweaters. You can find their options here.
3. Automatic Litter Box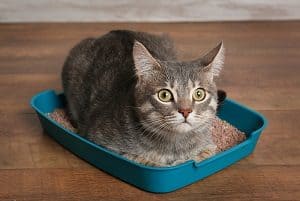 Cleaning up the litter box yourself can be a time-consuming task. Many pet owners simply forget about it too, and that means the cat doesn't have a clean place to go to the bathroom. One solution is to invest in your cute cat and grab an automatic litter box. Automatic litter boxes such as the PetSafe ScoopFree take care of the cleaning for you.
Once the cat has used it, it will begin the self-cleaning process on its own. They use dust-free crystals instead of the powdery litter most of us get our cats already. This leads to cleaner floors and less mess overall. These types of litter boxes have unique features like leak protection and disposable trays. Once the box has become full you can easily bag it up and throw it away.
4. Water Fountain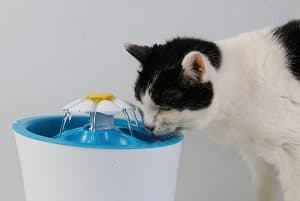 If there's one thing that all cats need, it's water. Simply giving your cat water in a drinking bowl is kind of boring though, isn't it? So, why not get them something interactive that they can drink from or even play with. Interactive water fountains are a great way to engage your cat with water, sparking their curiosity and also hydrating them.
These fountains run on batteries and will provide a consistent flow of water throughout the day. Some water fountains such as this one work with auto-power off features to help conserve water and battery. You can also use these fountains to train your cat to a consistent feeding schedule. These fountains have replacement filters to keep the water fresh and clean at all times.
The fountains also spray from various locations and at a safe distance to keep your cat from getting wet. The various streaming angles also make them a great gift for a household full of cats too!
5. Interactive Pet Feeders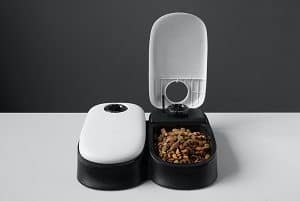 Much like interactive water fountains are popular among cats, so are automatic feeders. Automatic feeders are a great way to train your cat to eat at certain times of the day. Most feeders have the ability to push out as much or as little food as your cat needs in one setting. If you really want full control, then you can check out a WiFi Pet Feeder.
With those kinds of features, you can control the feeding schedule and adjust it right from your smartphone or voice-controlled devices. This is especially helpful if you're away on travel and need to monitor or adjust your cats feeding schedule on the fly.
These feeders are quite large, holding up to 24 – 30 cups of food at a time. It's not something you'll need to constantly refill, so it's simply a set and forget it process. If you're looking for a gift that keeps your cat's tummy full and also provides you flexibility, definitely get a pet feeder.
Other Gift Ideas For Your Cat To Pair With The Above List
Below are just a few of our favorite gift ideas for cats that pair well with those listed above.
Toy Mice – We'll start off with toy mice that you can purchase at any grocery store. If you want high-quality toy mice for your cat, then we highly suggest getting something that is tear-resistant. This allows your cat to keep playing with their favorite toy instead of having to get used to a new one every couple of weeks. Axel Pet has a pack of 20 toy mice which is a great place to get started. Check those out here.
Cat Nip – Did you know you can plant your own catnip? Raw catnip is the most potent type and provides much more enjoyment and effects than prepackaged catnip. It lasts longer and it's something your cat will engage with much more. Catnip typically takes about 12 – 15 weeks to fully grow, so it's not the quickest. However, the results are well worth it once you have your own supply to harvest from. You can get catnip seeds here.